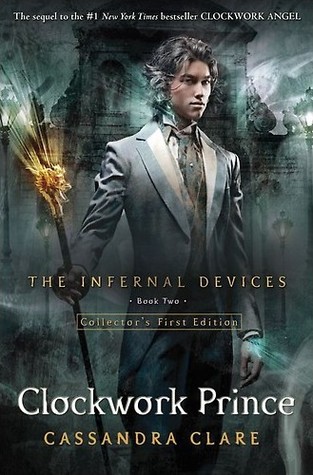 Title: Clockwork Prince
Author: Cassandra Clare
Source: Bought out of own money.
Rating: ★★★★
I love Cassandra Clare and I love the Victorian era. So naturally I adore these novels. I went through a phase a couple of years ago (like I'm sure a majority of you lot did) where I was obsessed with vampire books. Somehow, I never found these. Cassandra Clare remained a mystery to me.  I (thankfully) got out of that stage pretty quickly and moved on to better and more important novels. So imagine my surprise when I picked up a Mortal Instruments novel and fell in love. I've finished that series now, so thought I ought to move on to The Infernal Devices.
In the magical underworld of Victorian London, Tessa Gray, has at last found safety with the Shadowhunters. But that safety proves fleeting when rogue forces in the Clave plot to see her protector, Charlotte, replaced as head of the Institute. If Charlotte loses her position, Tessa will be out on the street, and easy prey for the mysterious Magister, who wants to use Tessa's powers for his own dark ends. With the help of the handsome, self-destructive Will and the fiercely devoted Jem, Tessa discovers that the Magister's war on the Shadowhunters is deeply personal. He blames them for a long-ago tragedy that shattered his life.
Clockwork Prince is the second book in The Infernal Devices series. It is set in Victorian London, in a world where magic is real. Tessa, the protagonist, is trying to find out the truth about her parentage and how she can stop her brother from being evil. She is also stuck in the middle of a love triangle, which although it's a ridiculously typical trope of YA fiction, is quite endearing and enjoyable in this story line. Tessa is so unbelievably awesome, she refuses to take no for an answer and is set on doing everything as well as the boys. She's worth reading the novel for. What I loved most about the novel was Tessa struggling to find the balance between achieving her dreams and training as a shadow hunter and also trying to fit in with society's boundaries for being a woman. The conflict was brilliantly written and really made me think about the reaction that somebody from a very strict upbringing might have when suddenly thrust into a new society.
I love the fast paced plot of Clare's work. I am never bored when reading her stories which means I will come back time and time again. Her descriptions are beautiful and almost make me want to go and live in Victorian London. The detailed descriptions of the clothing made me weak with pleasure and I re read passages just to be able to experience the authors interpretation of the era once again.
Whilst I am normally annoyed at love triangles and really hate having to put up with them just to find out the ending to a story, the love that Will, Tessa and Jem show for each other is rather realistic. I love that fact that Will honours his friendship with Will above all else, and how Tessa may love them both but once she has made her decision wants to stick with it.
Of course the best part of any Cassandra Clare novel is Magnus Bane, he's a wonderful comedic element with a darker side. I fell in love with him when he was first introduced in City of Bones and my love for him has not died. Also, LGBT representation is important; even in Fantasy novels.
What did you think of Clockwork Prince? I am currently reading Clockwork Princess so will most likely post my overall review of the series in the next couple of weeks. I am preparing myself for some full on emotions.
Erin xx